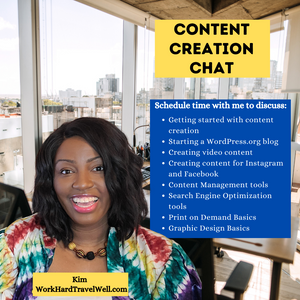 Content Creation Chat 30 Minute Call | Blog/WordPress/Content and Social Media Consulting/Drone Consulting
Regular price
Sale price
$ 50.00
---
Price is based on per 30 minutes. If you need more time book more than 1 qty
Need help with creating content, starting a blog, or managing social media , which drone to buy, where to fly drones? Schedule a 30-minute chat with me!
Gain Exclusive Access to My Expert Insights and Book a Consultation Session!
Are you seeking valuable advice and personalized guidance for your website, blog, or social media strategies? Look no further! Take advantage of my consultation services to tap into my extensive knowledge and experience in the field. Additionally, I'm more than happy to discuss and provide insights on drones as well!

Here's how you can schedule a consultation session with me:

1. Request a quote by submitting your details using the form below. Let me know what specific questions or challenges you're facing regarding your website, blog, social media, or drones. Be as detailed as possible to help me understand your unique needs.

2. Once I receive your request, I will promptly provide you with a quote for the consultation session based on the estimated duration of our conversation.

3. Upon confirmation and payment, you'll receive access to my exclusive calendar, where you can choose a time that works best for you. Pick a slot that aligns with your schedule and allows us to connect for our productive discussion.

Please note the following availability for consultation sessions:

- I'm currently available most evenings, except for Friday nights and Saturdays during the day.
- Sundays are fully open for consultations throughout the day.
Please note that the consultation session can cover a wide range of topics, including but not limited to:

WordPress setup and customization
Blog optimization and content strategies
Social media marketing and audience engagement
Analytics and performance tracking
Video Content Creation
Monetization strategies
Drone selection, usage, and applications in various industries

During our session, you'll have the opportunity to pick my brain, seek advice, and gain valuable insights tailored to your specific needs. Whether it's optimizing your website, refining your blog strategy, mastering social media promotion, or exploring the world of drones, I'm here to guide you toward success.

Don't miss out on this exceptional opportunity to consult with an industry expert! Submit your request for a quote now, and let's schedule a time to connect and take your endeavors to new heights. I look forward to our productive conversation!
NOT ELIGIBLE FOR PROMOTION CODES OR SALE PRICING